Jim Steinman Net Worth
Complete Wiki Biography of Jim Steinman, which contains net worth and salary earnings in 2019. Jim Steinman body measurments, height, weight and age details. Jim Steinman wiki ionformation include family relationships: spouse or partner (wife or husband); siblings; childen/kids; parents life. Wiki Bio of Jim Steinman net worth is updated in 2019.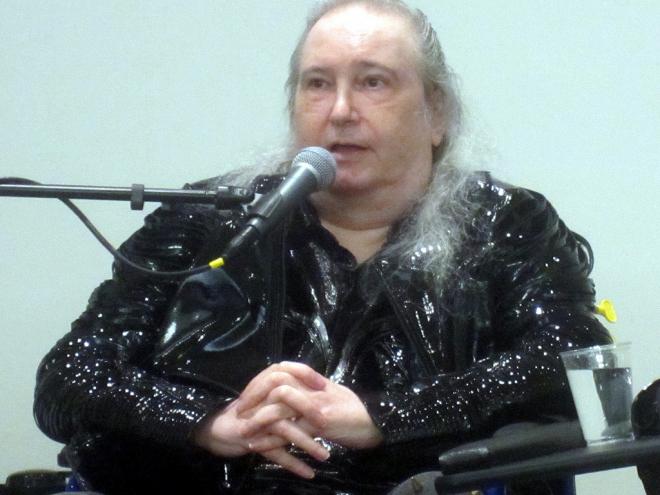 Jim Steinman Net Worth is

$1.4 Million
Mini Biography
Jim Steinman was created on November 1, 1947 in NEW YORK, NY, USA as Wayne Richard Steinman.
Known for movies

Quick Facts
| | |
| --- | --- |
| Full Name | Jim Steinman |
| Date Of Birth | November 1, 1947 |
| Profession | Record producer, Lyricist, Composer, Rock And Roll Dreams Come Through, Lost Boys And Golden Girls, Left in the Dark |
| Education | Amherst College, George W. Hewlett High School, Rock And Roll Dreams Come Through, Left in the Dark |
| Nationality | American |
| Awards | Grammy Award for Album of the Year |

| | |
| --- | --- |
| Full Name | Jim Steinman |
| Date Of Birth | November 1, 1947 |
| Profession | Record producer, Lyricist, Composer, Rock And Roll Dreams Come Through, Lost Boys And Golden Girls, Left in the Dark |
| Education | Amherst College, George W. Hewlett High School, Rock And Roll Dreams Come Through, Left in the Dark |
| Nationality | American |
| Awards | Grammy Award for Album of the Year |
| # | Quote |
| --- | --- |
| 1 | If you don't go over the top you can't see what's on the other side. |
| # | Fact |
| --- | --- |
| 1 | Wrote the music for 'Dance of the Vampires' which opened in October 2002 and closed 3 months later on January 25, 2003. Though the music got good reviews, the critics trashed the rest of the creative team and cast making this show the biggest failure in Broadway history at a cost of 12 million dollars. |
| 2 | Currently works on a musical version of 'Batman'. |
| 3 | Best known for the rock songs he has written for Meat Loaf. |
Soundtrack
| Title | Year | Status | Character |
| --- | --- | --- | --- |
| Strictly Come Dancing | 2014-2016 | TV Series writer - 5 episodes | |
| Trolls | 2016 | writer: "Total Eclipse Of The Heart" | |
| Scream Queens | 2016 | TV Series writer - 1 episode | |
| Lip Sync Battle Philippines | 2016 | TV Series writer - 3 episodes | |
| The Voice | 2016 | TV Series writer - 1 episode | |
| Britain's Got More Talent | 2016 | TV Series writer - 1 episode | |
| Atop the Fourth Wall | 2016 | TV Series writer - 1 episode | |
| Sausage Party | 2016 | writer: "I'd Do Anything for Love But I Won't Do That" - as James Steinman | |
| Mom | 2016 | TV Series writer - 1 episode | |
| La Marató 2015 | 2015 | TV Movie writer: "Aquest eclipsi del cor Total Eclipse of the Heart" | |
| Alvin and the Chipmunks: The Road Chip | 2015 | writer: "Total Eclipse of the Heart" - as James Steinman | |
| El making of del disc de La Marató | 2015 | TV Movie documentary writer: "Aquest eclipsi del cor Total Eclipse of the Heart" | |
| Best Time Ever with Neil Patrick Harris | 2015 | TV Series writer - 1 episode | |
| The Tonight Show Starring Jimmy Fallon | 2015 | TV Series writer - 2 episodes | |
| The X Factor | 2005-2015 | TV Series writer - 7 episodes | |
| Lip Sync Battle | 2015 | TV Series writer - 1 episode | |
| JonTron | 2015 | TV Series writer - 1 episode | |
| Official! Biggest Hits of the 90s | 2015 | TV Movie writer: "No Matter What", "I'd Do Anything for Love But I Won't Do That" | |
| Britain's Got Talent | 2013-2015 | TV Series writer - 2 episodes | |
| Ochéntame... otra vez | 2015 | TV Series documentary writer - 1 episode | |
| Mike & Mike | 2015 | TV Series writer - 1 episode | |
| Coronation Street | 2014 | TV Series writer - 1 episode | |
| Grey's Anatomy | 2013-2014 | TV Series writer - 2 episodes | |
| Dancing on Ice | 2014 | TV Series writer - 2 episodes | |
| Død snø 2 | 2014 | writer: "Total Eclipse of the Heart" | |
| Saturday Night Live | 1978-2014 | TV Series writer - 4 episodes | |
| Beer and Board Games | 2014 | TV Series documentary writer - 1 episode | |
| Great American Rock Anthems: Turn It Up to 11 | 2013 | TV Movie documentary writer: "Paradise by the Dashboard Light" | |
| The Sing-Off | 2013 | TV Series writer - 1 episode | |
| Tu cara me suena | 2013 | TV Series writer - 1 episode | |
| The Voice of the Philippines | 2013 | TV Series writer - 1 episode | |
| Grown Ups 2 | 2013 | writer: "Bat Out of Hell" - as James Steinman | |
| The Voice UK | 2013 | TV Series writer - 1 episode | |
| t Schaep met de 5 pooten | 2013 | TV Series writer - 2 episodes | |
| The Way Way Back | 2013 | writer: "Holding Out For A Hero" | |
| Austenland | 2013 | writer: "Total Eclipse of the Heart" - as James Steinman | |
| This Is 40 | 2012 | writer: "Paradise by the Dashboard Light" | |
| Glee | 2010-2012 | TV Series writer - 3 episodes | |
| Dancing with the Stars | 2006-2012 | TV Series writer - 5 episodes | |
| Big Brother's Bit on the Side | 2012 | TV Series writer - 1 episode | |
| That's My Boy | 2012 | writer: "Everything Louder Than Everything Else" - as James Steinman | |
| Regular Show in Space | 2012 | TV Series writer - 1 episode | |
| The Vow | 2012 | writer: "I'd Do Anything For Love But I Won't Do That" | |
| Promoción fantasma | 2012 | writer: "Total Eclipse of Heart" | |
| Criminal Minds | | TV Series lyrics - 1 episode, 2012 music - 1 episode, 2012 | |
| Kinect Sports: Season Two | 2011 | Video Game writer: "Holding Out For A Hero" | |
| New Year's Eve | 2011 | writer: "Two Out Of Three Ain't Bad" | |
| A Few Best Men | 2011 | writer: "Two Out of Three Ain't Bad" - as J Steinman | |
| Footloose | 2011 | writer: "Holding Out for a Hero" | |
| EastEnders | 2004-2011 | TV Series writer - 2 episodes | |
| So You Think You Can Dance | 2007-2011 | TV Series writer - 4 episodes | |
| Zookeeper | 2011 | writer: "Two Out of Three Ain't Bad" | |
| Glee Encore | 2011 | Video writer: "Total Eclipse Of The Heart" - as James Steinman | |
| 20 to 1 | 2009-2011 | TV Series documentary writer - 5 episodes | |
| Rude Tube | | TV Series music - 1 episode, 2010 writer - 1 episode, 2010 | |
| Les petits mouchoirs | 2010 | writer: "Holding Out For A Hero" - as J. Steinman | |
| Dancing with the Stars | 2010 | TV Series writer - 1 episode | |
| Formula 1: BBC Sport | 2010 | TV Series writer - 2 episodes | |
| Late Night with Jimmy Fallon | 2010 | TV Series writer - 1 episode | |
| Diary of a Wimpy Kid | 2010 | writer: "TOTAL ECLIPSE OF THE HEART" | |
| Some Days Are Better Than Others | 2010 | writer: "Total Eclipse of the Heart" | |
| Nostalgia Critic | 2010 | TV Series producer - 1 episode | |
| Loose Women | 2010 | TV Series writer - 1 episode | |
| The Nolans: In the Mood for Dancing | 2009 | TV Movie documentary writer: "Holding Out for a Hero" | |
| Beautiful People | 2009 | TV Series lyrics - 1 episode | |
| Rise 'n Shine Og | 2009 | TV Series writer - 1 episode | |
| Live from Studio Five | 2009 | TV Series writer - 3 episodes | |
| Smallville | 2009 | TV Series writer - 1 episode | |
| The Paul O'Grady Show | 2009 | TV Series writer - 1 episode | |
| Nobody | 2009 | writer: "Holding Out For A Hero" - as James Steinman | |
| This Morning | 2009 | TV Series writer - 1 episode | |
| Morrer Como Um Homem | 2009 | lyrics: "Total Eclipse of the Heart" / music: "Total Eclipse of the Heart" | |
| Chuck | 2009 | TV Series writer - 1 episode | |
| Yu-Gi-Oh! The Abridged Series | 2009 | TV Series writer - 1 episode | |
| Frequently Asked Questions About Time Travel | 2009 | writer: "Total Eclipse Of The Heart" - as Steinman | |
| Cinematic Titanic: Legacy of Blood | 2008 | Video writer: "Paradise By The Dashboard Light" - uncredited | |
| Operación triunfo | 2002-2008 | TV Series writer - 3 episodes | |
| In Plain Sight | 2008 | TV Series writer - 1 episode | |
| Meet Dave | 2008 | writer: "Bat Out of Hell" - as James Steinman | |
| Lost Islands | 2008 | writer: "Total Eclipse Of The Heart" | |
| Somewhere Over the Flagpole: A Nintendo Movie | 2008 | Short writer: "Holding Out for a Hero" | |
| Idols | 2008 | TV Series writer - 1 episode | |
| It Takes Two | 2008 | TV Series writer - 2 episodes | |
| 8 päivää ensi-iltaan | 2008 | "Loving you is a dirty job", "Faster Than the Speed of Night" | |
| Ping-pongkingen | 2008 | lyrics: "Total Eclipse of the Heart' / writer: "Total Eclipse of the Heart' | |
| Idols! | 2007 | TV Series writer - 1 episode | |
| Nip/Tuck | 2007 | TV Series writer - 1 episode | |
| Meat Loaf: Three Bats Live | 2007 | Video writer: "All Revved Up With No Place To Go", "Paradise By The Dashboard Light", "You Took The Words Right Out Of My Mouth", "Out Of The Frying Pan And Into The Fire", "Life Is A Lemon And I Want My Money Back", "I'd Do Anything For Love", "Objects In The Rear View Mirror May Appear Closer Than They Are", "Rock & Roll Dreams Come Through", "Bad For Good", "If It Ain't Broke Break It", "Two Out Of Three Ain't Bad", "Bat Out Of Hell", "It's All Coming Back To Me Now" | |
| Yperoha plasmata | 2007 | TV Series writer: "Holding Out for a Hero" | |
| Idols | 2005-2007 | TV Series writer - 3 episodes | |
| Meat Loaf: In Search of Paradise | 2007 | Documentary writer: "You Took The Words Right Out Of My Mouth", "Seize The Night", "If It Ain't Broke Break It", "Two Out Of Three Ain't Bad", "It's All Coming Back To Me Now", "I Would Do Anything For Love But I Won't Do That", "All Revved Up With No Place To Go", "Paradise By The Dashboard Light", "Bad For Good", "Out Of The Frying Pan And Into The Fire", "Bat Out Of Hell" - as James Steinman | |
| Patinando por un sueño | | TV Series producer - 1 episode, 2007 writer - 1 episode, 2007 | |
| Friday Night with Jonathan Ross | 2007 | TV Series writer - 1 episode | |
| American Loser | 2007 | writer: "Holding Out For A Hero" - as James Steinma | |
| So You Wanna Be a Popstar | 2007 | TV Series lyrics - 1 episode | |
| Skins | 2007 | TV Series writer - 2 episodes | |
| Deutschland sucht den Superstar | 2007 | TV Series writer - 1 episode | |
| Idols | 2007 | TV Series writer - 1 episode | |
| Karaoke Revolution Presents: American Idol | 2007 | Video Game as James Steinman, "Total Eclipse of the Heart" | |
| Cesko hledá SuperStar | 2006 | TV Series writer - 1 episode | |
| Click | 2006 | writer: "Making Love Out of Nothing at All" 1983 | |
| Super Powers | 2006 | Short writer: "Holding Out for a Hero" - uncredited | |
| Totally Frank | 2005 | TV Series writer - 1 episode | |
| Reunion | 2005 | TV Series writer - 1 episode | |
| Canadian Idol | 2005 | TV Series writer - 1 episode | |
| Mr. & Mrs. Smith | 2005 | writer: "Making Love Out of Nothing at All" - as James Richard Steiman | |
| American Idol | 2002-2005 | TV Series writer - 5 episodes | |
| Idol | 2002-2005 | TV Series writer - 3 episodes | |
| Passo a due | 2005 | writer: "Total Eclipse of the Heart" | |
| Live from New York: The First 5 Years of Saturday Night Live | 2005 | TV Special documentary writer: "No Place to Go" | |
| Singapore Idol | 2004 | TV Series writer - 1 episode | |
| Meat Loaf: Live with the Melbourne Symphony Orchestra | 2004 | Video writer: "Life Is A Lemon And I Want My Money Back", "Dead Ringer For Love", "All Revved Up With No Place To Go", "You Took The Words Right Out Of My Mouth Hot Summer Night", "Out Of The Frying Pan And Into The Fire", "For Cryin' Out Loud", "Two Out Of Three Ain't Bad", "Paradise By The Dashboard Light", "I'd Do Anything For Love But I Won't Do That", "Bat Out Of Hell" - as J. Steinman | |
| Idol | 2004 | TV Series writer - 1 episode | |
| Scrubs | 2004 | TV Series writer - 1 episode | |
| Hrvatski Idol | 2004 | TV Series writer - 2 episodes | |
| Harold & Kumar Go to White Castle | 2004 | writer: "Total Eclipse of the Heart" - as James Steinman | |
| Shrek 2 | 2004 | writer: "Holding Out for a Hero" 1984 | |
| My Date with Drew | 2004 | Documentary writer: "Holding Out For a Hero" | |
| SuperStar KZ | 2003-2004 | TV Series writer - 2 episodes | |
| Pop Idol | 2001-2003 | TV Series writer - 2 episodes | |
| Cold Case | 2003 | TV Series writer - 1 episode | |
| Wuthering Heights | 2003 | TV Movie writer: "Prelude: The Future Ain't What it Used to Be", "More", "If It Ain't Broke Break It", "The Future Ain't What it Used to Be" | |
| Australian Idol | 2003 | TV Series writer - 1 episode | |
| Dumb and Dumberer: When Harry Met Lloyd | 2003 | writer: "Making Love Out of Nothing At All" | |
| Old School | 2003 | writer: "Total Eclipse of the Heart" | |
| Party Monster | 2003 | writer: "Total Eclipse of the Heart" | |
| The Disco Ball | 2003 | TV Special writer: "Total Eclipse of the Heart" | |
| Stars in Their Eyes Kids | 2002 | TV Series writer - 1 episode | |
| Roswell | 2002 | TV Series writer - 1 episode | |
| Bandits | 2001 | writer: "Total Eclipse of the Heart" 1983, "Holding Out for a Hero" 1984 | |
| Josie and the Pussycats | 2001 | writer: "Paradise By The Dashboard Light" | |
| Futurama | 2001 | TV Series writer - 1 episode | |
| 100 Greatest Number One Singles | 2001 | TV Special documentary lyrics: "No Matter What" | |
| Stars in Their Eyes | 1993-2000 | TV Series writer - 5 episodes | |
| The Vicar of Dibley | 1999 | TV Series writer - 1 episode | |
| That '70s Show | 1999 | TV Series writer - 1 episode | |
| Notting Hill | 1999 | "NO MATTER WHAT" USA version's ending title | |
| Sarah Brightman in Concert | 1998 | TV Movie lyrics: "Whistle Down The Wind" | |
| British Men Behaving Badly | 1998 | TV Series writer - 1 episode | |
| VH1 Storytellers | | TV Series documentary lyrics - 1 episode, 1998 writer - 1 episode, 1998 | |
| Urban Legend | 1998 | writer: "Total Eclipse of the Heart", "Total Eclipse of the Heart" uncredited | |
| The Mask of Zorro | 1998 | producer: "I Want To Spend My Lifetime Loving You" | |
| Top of the Pops | 1979-1998 | TV Series writer - 6 episodes | |
| Great Performances | 1998 | TV Series lyrics - 1 episode | |
| Black Cat, White Cat | 1998 | writer: "Nowhere Fast" | |
| Anastasia | 1997 | producer: "In the Dark of the Night" | |
| The Nanny | 1997 | TV Series writer - 1 episode | |
| Ed | 1996 | writer: "Everything's Louder Than Everything Else" | |
| Meat Loaf: Bat Out of Hell II - Picture Show | 1994 | Video arranger: "I'd Do Anything For Love But I Won't Do That", "Rock And Roll Dreams Come Through", "Life Is A Lemon And I Want My Money Back", "Objects In The Rear View Mirror May Appear Closer Than They Are", "Paradise By The Dashboard Light" / producer: "I'd Do Anything For Love But I Won't Do That", "Rock And Roll Dreams Come Through", "Life Is A Lemon And I Want My Money Back", "Objects In The Rear View Mirror May Appear Closer Than They Are", "Paradise By The Dashboard Light" / writer: "I | |
| The Shadow | 1994 | arranger: "ORIGINAL SIN THEME FROM 'THE SHADOW'" / producer: "ORIGINAL SIN THEME FROM 'THE SHADOW'" / writer: "ORIGINAL SIN THEME FROM 'THE SHADOW'" | |
| The Brit Awards 1994 | 1994 | TV Special writer: "I'd Do Anything For Love But I Won't Do That" | |
| Sisters of Mercy: Shot Rev 2.0 | 1993 | Video short writer: "More" | |
| Leap of Faith | 1992 | "Paradise by the Dashboard Light" | |
| Meat Loaf: Hits Out of Hell | 1991 | Video writer: "Bat Out Of Hell", "Read 'Em And Weep", "Two Out Of Three Ain't Bad", "More Than You Deserve", "I'm Gonna Love Her For Both Of Us", "You Took The Words Right Out Of My Mouth Hot Summer Night", "Paradise By The Dashboard Light" | |
| Who's Harry Crumb? | 1989 | writer: "Holding Out For A Hero" | |
| Short Circuit 2 | 1988 | writer: "Holding Out For A Hero" | |
| Meat Loaf: London Meltdown Concert | 1987 | Video documentary writer: "Dead Ringer For Love", "You Took The Words Right Out Of My Mouth", "Bat Out Of Hell" | |
| Alfred Hitchcock Presents | | TV Series producer - 1 episode, 1985 writer - 1 episode, 1985 | |
| Saturday Night's Main Event | 1985 | TV Series producer - 1 episode | |
| Rock 'n' Wrestling | 1985 | TV Series writer: "Hulk Hogan's Theme" | |
| Fame | 1984 | TV Series writer - 2 episodes | |
| Cover Up | 1984 | TV Series writer: "Holding Out for a Hero" | |
| Streets of Fire | 1984 | producer: "NOWHERE FAST", "TONIGHT IS WHAT IT MEANS TO BE YOUNG" / writer: "NOWHERE FAST", "TONIGHT IS WHAT IT MEANS TO BE YOUNG" | |
| The Magic of David Copperfield VI: Floating Over the Grand Canyon | 1984 | TV Special writer: "Holding Out for a Hero" | |
| Footloose | 1984 | writer: "Holding Out for a Hero" | |
| Bonnie Tyler: Total Eclipse of the Heart | 1983 | Video short writer: "Total Eclipse Of The Heart" | |
| J.J. de Bom voorheen: 'De kindervriend' | 1979 | TV Series writer - 1 episode | |
| Rockpalast | 1978 | TV Series writer - 1 episode | |
| In My Life... Zsa Zsa Live | | Video documentary writer: "Celine Dion Medley" | |
Music Department
| Title | Year | Status | Character |
| --- | --- | --- | --- |
| Classic Albums: Meat Loaf - Bat Out of Hell | 1999 | Video documentary composer: songs | |
| The Mask of Zorro | 1998 | music arranger | |
| Rude Awakening | 1989 | song producer | |
| Rock 'n' Wrestling | 1985-1986 | TV Series composer - 13 episodes | |
| Delta House | 1979 | TV Series composer - 7 episodes | |
| Rockpalast | 1978 | TV Series musician - 1 episode | |
| Wuthering Heights | 2003 | TV Movie executive music producer | |
Composer
| Title | Year | Status | Character |
| --- | --- | --- | --- |
| Meat Loaf: Going All the Way - Lyric Video | 2016 | Short | |
| A Small Circle of Friends | 1980 | | |
| Delta House | 1979 | TV Series 1 episode | |
Producer
| Title | Year | Status | Character |
| --- | --- | --- | --- |
| Wuthering Heights | 2003 | TV Movie executive producer | |
| Classic Albums: Meat Loaf - Bat Out of Hell | 1999 | Video documentary co-producer | |
Production Designer
| Title | Year | Status | Character |
| --- | --- | --- | --- |
| Bonnie Tyler: Total Eclipse of the Heart | 1983 | Video short | |
Miscellaneous
| Title | Year | Status | Character |
| --- | --- | --- | --- |
| Wuthering Heights | 2003 | TV Movie concept | |
Thanks
| Title | Year | Status | Character |
| --- | --- | --- | --- |
| Biography | 2001 | TV Series documentary special thanks - 1 episode | |
| Meat Loaf: Hits Out of Hell | 1991 | Video special thanks | |
Self
| Title | Year | Status | Character |
| --- | --- | --- | --- |
| Ultimate Albums | 2002 | TV Series | Himself |
| Classic Albums: Meat Loaf - Bat Out of Hell | 1999 | Video documentary | Himself |
| Power Vision - Pop Galerie | 1999 | TV Series documentary | Himself |
| Behind the Music | 1998 | TV Series documentary | Himself |
| Meat Loaf: Bat Out of Hell II - Picture Show | 1994 | Video | Himself - Songwriter |
| Meat Loaf: Hits Out of Hell | 1991 | Video | Himself (uncredited) |
| Rockpalast | 1978 | TV Series | Himself - Musician |
| Saturday Night Live | 1978 | TV Series | Himself |
Archive Footage
| Title | Year | Status | Character |
| --- | --- | --- | --- |
| Meat Loaf: In and Out of Hell | 2015 | TV Movie documentary | Himself - Interviewed in 1981 / 1983 |
Nominated Awards
| Year | Award | Ceremony | Nomination | Movie |
| --- | --- | --- | --- | --- |
| 1985 | Grammy | Grammy Awards | Best Album of Instrumental Score Written for a Motion Picture or Television Special | Footloose (1984) |